If you're considering getting an emotional support animal (ESA) letter online, you're probably wondering about the process. The good news is that the process for qualifying online is simple and safe, as long as you're working with a reputable organization. So before you get your ESA letter online from a licensed therapist, you may want to read this article and do some research.
What is an Emotional Support Animal?
Pets bring a wealth of cuddles and warmth to their owners. However, an emotional support animal (ESA) is much more than a pet. An emotional support animal alleviates the symptoms of a psychiatric illness. The owner of an ESA typically has an emotional or mental health condition and requires the presence of the ESA in their home.
According to Mental Health America, the leading nonprofit dedicated to addressing mental health, approximately 46 percent of Americans will likely meet the standards for an emotional or mental health diagnosis at least once in their lifetime. Additionally, roughly half of those people develop their conditions as children, mainly by the age of 14.
Many of these people may benefit from the presence of an ESA. Research into the human-animal bond shows that animals are an effective way to reduce the signs and symptoms of psychiatric conditions. An ESA is an animal that helps its owner cope with their mental health diagnosis. Because an ESA is vital to the owner's mental health, an ESA is protected under federal law – as long an ESA's owner has a valid and current ESA letter from a licensed mental health care professional.
Who Qualifies for an Emotional Support Animal?
Emotional support animals are for people diagnosed with an emotional or mental condition. A few illnesses that may be relieved from an ESA's company:
Social anxiety
Generalized anxiety disorder (GAD)
Depression
Panic disorder
Bipolar disorder
Schizophrenia
Post-traumatic stress disorder (PTSD)
Attention-deficit hyperactivity disorder (ADHD)
Agoraphobia
Regardless of the diagnosis, it's essential that the ESA can assist a person in easing symptoms. An ESA letter attests to a licensed provider's professional belief that an ESA would successfully help their client's mental health status.
If you suffer from a mental health disorder and would like to qualify for an Emotional Support Animal online, ESA Doctors can help connect you to a therapist who is licensed in your state. Click below to get started.

What Protects Emotional Support Animals?
There are federal and state laws that support the right of a person with an emotional or mental disorder to reside with their emotional support animal.
The Fair Housing Act
The Fair Housing Act (FHA) is a federal law protecting tenants against discrimination from housing providers. This law ensures people with disabilities are guarded against discrimination due to their condition or illness. Landlords and housing providers are required to offer reasonable accommodations for people with disabilities rather than refuse them and allowing emotional support animals is considered a reasonable accommodation.
The U.S. The Department of Housing and Urban Development (HUD) is the enforcing entity for the FHA. The HUD. The HUD includes emotional support animals under the term assistance animals. Therefore, the landlords and housing providers must accommodate ESA owners by allowing ESA into their dwellings.
As long as a renter possesses a valid ESA letter, under most conditions, the landlord must consent to the ESAs presence.

ESA Doctors, est. 2015
State Laws Regarding ESA
In addition to overarching federal laws, individual states may have their own laws impacting the use of emotional support animals. Many of these laws sanction pet owners who misrepresent their animals as ESA. Without a legitimate ESA letter, any attempts to obtain housing in "no pets allowed" rentals with an animal as an ESA can be refused. Misrepresentation may even result in legal charges, depending on state laws.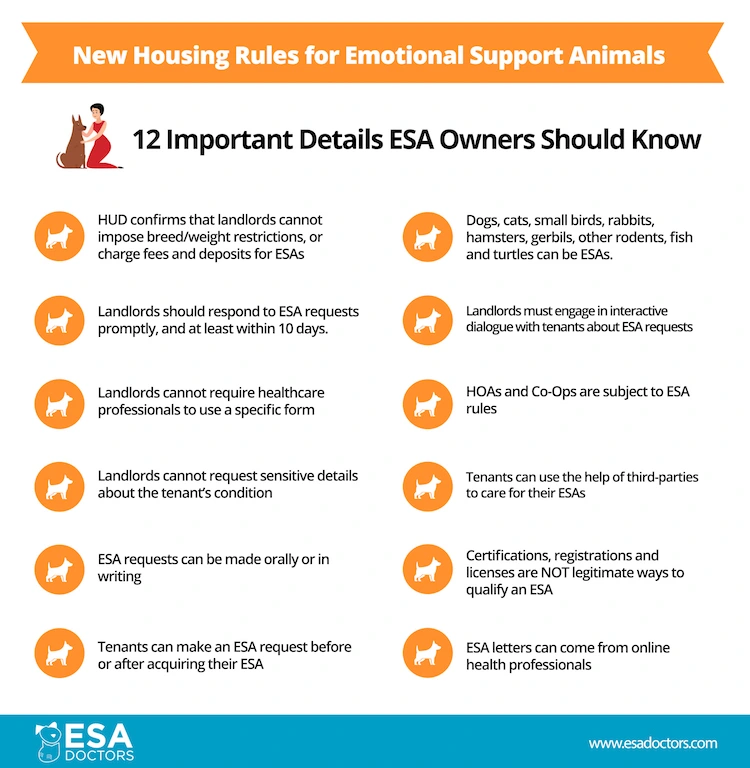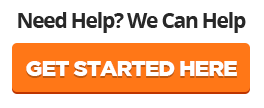 What is an ESA Letter?
An emotional support animal letter (ESA letter) is an official document stating that an individual requires an ESA to address signs and symptoms of their psychiatric condition. The letter affirms that an individual was assessed by an in-state licensed mental healthcare provider. Furthermore, the licensed provider believes that an ESA benefits their client's mental well-being.
Who can write an ESA letter?
Only a licensed mental health professional can write an official ESA letter. A few examples of licensed mental health providers are:
Licensed Advanced Nurse Practitioners
A Physician or Psychiatrist (Doctor)
Licensed Psychologist
Licensed Social Worker
Licensed Therapist
Licensed Counselor
The professional writing the ESA letter must also be licensed in the same state the letter is utilized, and letters should be renewed each year.
What does an ESA letter include?
An authentic ESA letter must contain the following elements:
The date of issuance.
Written on the professional's letterhead.
The professional's current license number and state of practice.
The signature of the issuing professional.
A statement that the ESA is necessary to alleviate their client's mental or emotional disability.
With such specific information required for an ESA letter, it's vital that a professional familiar with the process initiates the ESA letter. This ensures that all the required criteria and information are met.
An ESA Letter Online
An ESA letter obtained online is as valid as an ESA letter obtained in person. Corresponding with a licensed mental health professional via the internet, called telehealth, is recognized by the government and other healthcare providers as a reliable form of communication and assessment.
An ESA letter from an online therapist equals the ESA letter from a therapist seen in person.

ESA Doctors, est. 2015
Since 2020, the use of telehealth has grown. It is now used to address both physical and mental health issues. Most importantly, the United States Department of Housing recognizes the use of online therapists through telehealth.
Finding a Reputable and Understanding Licensed Mental Health Professional
Working with an online mental health professional may require a bit of research. As with any other professional, vetting is necessary before initiating services. Typically, professionals associated with a respected organization and a strong online presence are key indications that they are authentic. In addition, it helps that they would have familiarity with the benefits of an ESA and how ESA letters are documented.
Although you might find an esteemed professional, they may not be knowledgeable about how impactful ESAs are for specific emotional or mental disabilities. Furthermore, some mental health professionals may be hesitant to write an ESA letter, or they may not have the authority under the organization they are employed by.
ESA letter Online: Do You Qualify?
Once you've found an organization or mental health professional, the process for qualifying may differ slightly depending on each provider. However, most online services involve the same process.
Obtaining an ESA letter through online services involves three simple steps:
Submit a Form Online

Submitting an online questionnaire or health history allows the professional to see basic information about you. The form also offers some background about your psychological status and your interest in qualifying for an ESA. 

Matching with a Mental Health Professional 

Depending on the organization, you may be matched with a licensed mental health professional in your state. This professional reviews your health history and assesses your mental health needs. Online providers offer their services remotely and do not require an in-person office visit. 

Qualifying for an ESA Letter

Once your situation has been assessed, the licensed mental healthcare provider may issue an ESA letter. The ESA letter should contain all the requirements necessary to meet FHA and applicable state laws. 
ESA Doctors and Your ESA Letter
ESA Doctors is a reputable online service that links you with licensed mental health professionals in your state. These professionals have a solid background in mental health and are familiar with the therapeutic benefits of ESA. Contact ESA Doctors for your request for an ESA letter and see if you qualify.