They say, "Everything is bigger in Texas" — think Texas Toast, wide-brimmed cowboy hats, and the 268,000 square miles that span the state. So, we can't blame you if you're thinking of how to register an emotional support animal (ESA) in Texas because the love and affection from an animal in the Lone Star state might be just like everyone else there — larger than life!
What Is an Emotional Support Animal (ESA)?
It's important to remember that an ESA is not a service animal. A service animal receives extensive training to complete tasks for an individual with a disability; for example, they may guide people with significant visual impairments or perform deep pressure therapy on people with anxiety disorders. A service animal is typically a dog.
An emotional support animal, however, doesn't have the same training as a service animal. Instead of performing a specific task, ESAs offer security and emotional warmth to someone with an emotional or psychiatric condition through their presence alone.
The federal government recognizes the importance of emotional support animals with the Fair Housing Act. Under this housing law, people with an ESA cannot be discriminated against by their landlords. Even in rentals where animals aren't typically allowed, the FHA allows an ESA to remain.
What's more, unlike a service animal, an ESA can be almost any animal. An ESA can be a domesticated pet, such as a cat, rabbit, fish, hamster, or iguana. For example, someone who has depression and finds that their rabbit helps ease the symptoms of their disorder, they may want to pursue establishing their animal as an ESA. However, to hold a legitimate emotional support animal, an ESA letter is necessary.
If you are ready to connect online with a licensed health professional for an ESA letter that complies with Texas law, click on the link to get started.

What Is an ESA Letter?
The owner of an emotional support animal must have an ESA letter to be considered legal. An ESA letter is a formal document authored by a licensed healthcare professional. The letter must state that the animal helps the pet owner reduce the symptoms of their emotional or mental health condition. With an ESA letter, an ESA can reside with their owner in "no pets allowed" housing, and the usual pet fees relating to housing do not apply.
Where Can I Get an ESA Letter in Texas?
A valid ESA letter must be from a licensed mental health professional (LMHP). A few examples of an LMHP are:
psychologists
psychiatrists
licensed marriage and family therapists (LMFT)
licensed clinical social workers (LCSW)
LMHPs may issue an ESA letter either in person or online. Individuals who are already seeing an LMHP for their disability may inquire with their provider regarding whether an ESA may benefit them. If their provider sees a significant benefit to having an ESA, they may write an ESA letter. A valid ESA letter must include the LMHP's name, license number, and contact information. Once an ESA letter is issued, an ESA can reside with its owner in any home. 
To get an ESA letter in Texas from an online therapist or other LMHP, you must first complete an online questionnaire that explores your need for an emotional support animal. The therapist/LMHP will review your answers and determine your need for the animal in question. If the therapist believes that an ESA is right for you, they will send you a completed letter on their official letterhead via email. You can then send this ESA letter to your HOA, landlord, or property manager and request reasonable accommodations for you and your emotional support animal.
To get started on your online ESA letter process, click on the link below and complete the questionnaire to the best of your abilities.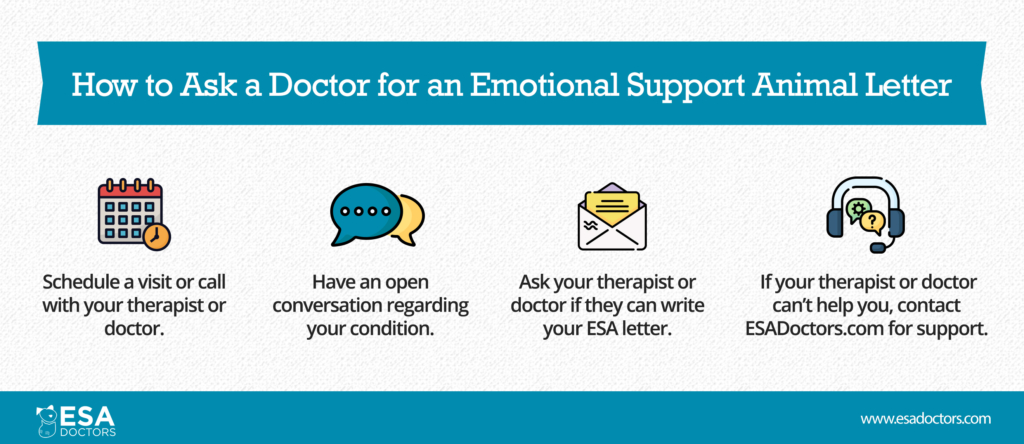 Registering Your ESA in Texas
It's not required by law to register an ESA in Texas. ESA registries are usually done online and offer to "register your ESA" in a nationally recognized registry or database, and typically ask for a high fee. There are no locally or nationally acknowledged databases for ESAs. In fact, any company or website that states ESA registrations are required is a scam and should not be trusted.
Registering an ESA does not make an animal a valid ESA — only an ESA letter issued by an mental health professional who is licensed in Texas qualifies for a legitimate ESA.

ESA Doctors, est. 2015
Finding an ESA in Texas
If you're interested in obtaining an ESA for yourself — or maybe just looking for a furry friend — the following are excellent options for finding a fur-ever friend:
Operation Kindness
Located in North Texas, Operation Kindness has been in operation for 45 years. In addition to offering adoptable rescued dogs and cats, Operation Kindness also services animals in need of medical care, hosts an extensive foster program to ensure that their animals are sociable, and has established a pet food pantry.
Fuzzy Friends Rescue
The Fuzzy Friends Rescue takes in dogs and cats in Central Texas. A well-established rescue center, the Fuzzy Friends Rescue provides a Pet Therapy program and pet education for Central Texas. Check out their website, and you'll find extraordinary before and after photos of their lovable rescues!
Friends for Life
The Friends for Life animal rescue is located in Houston and is proud of its close ties to Texas. Besides finding fur-ever homes for their cuddly residents, Friends for life also runs Houston's first animal food bank for pets with families in need. Friends for life also runs an extensive spay/neuter program; the shelter has given away more than 5,500 surgeries thus far.
Your Emotional Support Animal in Texas
If you're looking for an emotional support animal with a big heart, you'll find it in Texas. Remember to inquire about an ESA letter first to ensure that you and your ESA are adequately protected under federal law.