Due to regulatory changes from the U.S. Department of Transportation, airlines have stopped accepting emotional support animals on flights in 2021. That means an ESA letter can no longer be submitted to an airline for special accommodation of an emotional support animal. Some ESA owners may, however, be able to train their dogs to become psychiatric service dogs.
Under these new rules, psychiatric service dogs are the only type of assistance animal that must be accommodated in the cabin of the airplane free of charge and exempt from size and weight restrictions. To fly with a psychiatric service dog, you must submit a special form from the Department of Transportation to the airline before departure.
The DOT Form requires PSD owners to certify that their dog is trained to perform tasks relating to their mental health disability. If you are interested in qualifying for a psychiatric service dog, a licensed healthcare professional can help assess whether you meet the criteria for having a disability under the ADA and Air Carrier Access Act.
ESA Doctors works with licensed professionals that can evaluate you for a PSD letter. These professionals work remotely online and you can see if you qualify from the comforts of your home. To get started just click on the link below.
Good News! All airlines still accept Psychiatric Service Dogs on all flights.
If you are interested in a Psychiatric Service Dog Letter, we would be happy to connect you with a licensed healthcare provider so they may assist you.
IMPORTANT NOTICE: The information below relates to out-of-date rules for emotional support animals on flights and is retained for archival purposes only. Please visit this link for a summary of the current state of air travel with an assistance animal.
Emotional Support Animals, or ESA for short, have been helping people with emotional and mental health conditions for many years. Unlike Service Dogs, the ESA doesn't have the full access rights to restaurants, hotels, and other public places; however, the emotional support animal is allowed into the cabin of an airplane with airlines accepting emotional support animals and in apartments and condos even if they have a no-pet policy.
In this post, we will cover the requirements airlines will be looking for in the ESA letter, why it's important not to fake an ESA letter, and what a legitimate emotional support letter needs to include.
Traveling with your emotional support animal without any additional fee or costs is allowed by airline carriers if you have an ESA letter. However, you have to comply with some requirements. All airlines require your ESA to be well behaved in public and calm on the plane. You can get an at-home dog training guide and train your dog yourself in no time. This will ensure you have a pleasant experience flying with your dog.
ESA Letter Requirements for an Airline
You are permitted to travel with an emotional support animal in the cabin of the airplane. However, it's not as simple as just showing up with your furry pal and expecting to be seated. Airlines will require you to present a legitimate ESA letter.
According to Transportation.gov airlines require the ESA letter to include;
That your condition is recognized by the Diagnostic and Statistical Manual of Mental Disorders (DSM).
You require the animal for either the flight itself or at your final destination.
You are under the professional care of a licensed mental health professional.
The letter must be written on the licensed mental health professional's letterhead.
The date and type of professional license; and the state the licensed was issued
The letter cannot exceed one year from your flight date.
Most airlines will require 48-hours advance notice when you are traveling with an emotional support animal. Other rules may also apply, so be sure to check with the individual air carrier to ensure you will have all the information you need when checking in. You may also find more information on airline policies for flying with an ESA here.
Can I Fly Internationally with an ESA?
Any foreign airline flying to and from the United States must accept emotional support animals on their flights. However, foreign airlines are only required to accept dogs as emotional support animals.
Please note, according to the U.S. Department of Transportation, "U.S. airlines traveling to foreign countries are subject to the requirements of that foreign country regarding the acceptance of service animals; not all countries permit service animals from other foreign countries." Make sure to check if your destination country allows your emotional support animal and if there are any other requirements to enter and exit the foreign country legally.
Do I Have to get a New ESA Travel Letter Every Year to Fly?
According to the U.S. Department of Transportation, "airlines may require documentation that is not older than one year from the date of your scheduled initial flight."
This means that airlines require your ESA letter to be written within one year of your travel date. For example, if you are traveling on May 1st, 2019, your letter must have been written on May 1st, 2018, or after. If your ESA letter was written on April 30th, 2018 or before, you would have to get a new ESA letter for your flight.
If you need to renew your ESA Travel letter, click here to complete the ESA Travel Renewal Questionnaire.

Sample ESA Letter
A professional and legitimate emotional support animal letter can look like the sample ESA letter below. Please note that the wording does not have to be exactly the same and each licensed mental health professional may have their own version, written on their official letterhead;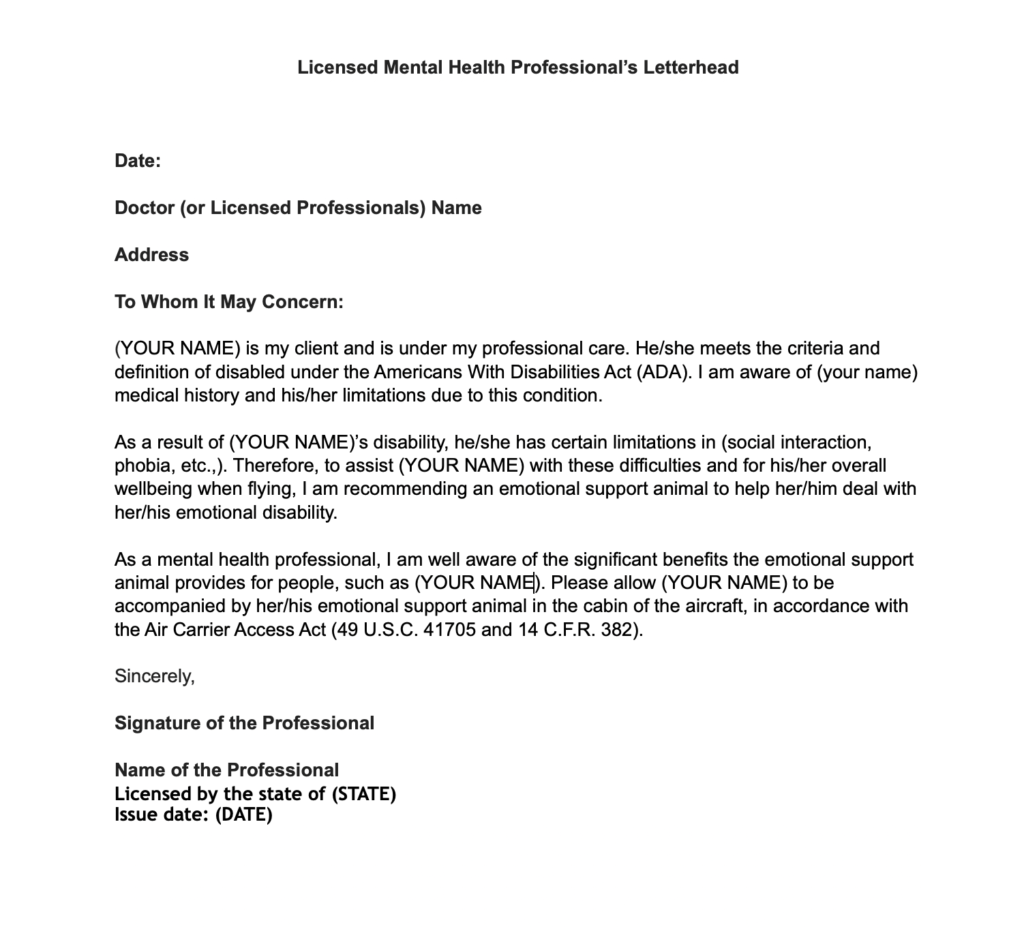 Note: the wording in this letter is for informational purposes only. Each doctor will have their text in regards to the recommendation and ESA letter.
Don't Use Fake an ESA Letter
If it sounds too good to be true…well…you know the rest. This adage has never rung with more truth than with the fake ESA letter. Don't be fooled by online vendors that promise instant qualification and an ESA letter for a low payment. This may be a red flag because a real licensed mental health professional must make an assessment and this takes time and will usually cost more than $49.
Real ESA letters need to be written by a licensed mental health professional that has you under their professional care. Some airlines will also require you to provide additional documentation, that they provide, for your licensed mental health professional to complete.
Qualify for a Real ESA Letter from a Licensed Mental Health Professional
You and Your Emotional Support Animal
There are more than 100,000 psychiatrists, psychologists, licensed clinical social workers, psychiatric RN's, LMFTs, etc. in the United States alone, and anyone of these licensed individuals can recommend you an ESA if you truly do need one. Don't be afraid to reach out for support when it comes to your mental health – you will only be better for it.
According to the ADA one of your rights is the allowance to travel with your ESA in the cabin of the aircraft. However, if you don't truly need an emotional support animal to fly, but are just trying to get your pet on the flight for free, stop and rethink your plan. It's not worth providing false information over a small fee.
If you are uncomfortable putting your pet in the cargo hold, then find a friend, family member, neighbor or boarding kennel that will be happy to doggy-sit for you while you are away.
Qualify for an ESA Letter Today!
Get the Love and Support you deserve!