Emotional support animals (ESA) help individuals who suffer from emotional or mental health disorders by giving them support and comfort to deal with their symptoms. This post will cover where you can and can't take your emotional support animal and some other important facts you will want to know.
What exactly is an Emotional Support Animal?
An ESA is a domesticated animal, such as a dog, cat, rodent, bird, fish, or turtle that brings comfort and/or emotional stability to an individual who suffers from a diagnosed mental health disability. ESA owners commonly have conditions like severe anxiety, post-traumatic stress disorder, depression, phobias, and learning disorders.
To qualify for an emotional support animal, you must be assessed by a licensed professional. A licensed healthcare professional can issue an ESA letter that establishes your need for an emotional support animal to assist with your health condition. Your ESA can be an existing pet, or it can be adopted at a later stage.
An ESA does not require any specialized training to assist with your condition. They serve by being present in your life and being there for you during difficult times. This is different from psychiatric service dogs, which require extensive training to perform tasks relating to a person's mental health disability. As we will see, PSDs have a higher hurdle in terms of training but are also afforded greater access rights than emotional support animals.

Can my emotional support animal live with me in a no-pets building?
You have a right to live with your emotional support animal in your home. Federal housing laws—and various state laws—protect people suffering from emotional and/or mental disabilities and their ESAs.
Housing providers must reasonably accommodate ESA owners even if their building has a strict policy that prohibits any type of pet on the premises. Under Fair Housing guidelines, housing providers such as condos, landlords, co-ops, and HOAs cannot charge any extra fees or deposits due to your need for an emotional support animal. ESAs are also exempt from other building restrictions relating to pets, such as those regarding size, weight, or breed of the animal.
Note that some landlords are exempt from these requirements: owner-occupied buildings with no more than four units and single-family houses sold or rented by the owner without using an agent do not need to comply with ESA rules.
Can my emotional support animal be in the common areas?
According to HUD's guidelines for emotional support animals, a reasonable accommodation by a landlord is a "change, exception, or adjustment to a rule, policy, practice, or service that may be necessary for a person with a disability to have equal opportunity to use and enjoy a dwelling, including public and common use spaces."
Note that "public and common use spaces" are specifically called out. That means an ESA owner has the right to take their emotional support animal through the lobby, elevator, stairways, and other common areas where other residents are allowed to go.
Can my emotional support animal live in my university dorm?
College dorms and campus housing must also accommodate student residents that want to live with their emotional support animals. There have been instances where colleges have been penalized for not following Fair Housing guidelines. Students should be aware, however, that universities often have certain unique requirements when it comes to ESA requests. For more information, you should check with your school to see their specific policies regarding emotional support animals in dorms and campus housing.
Can my emotional support animal come to class with me?
Generally speaking, ESAs do not have a legal right to attend classrooms. However, you should check with your school to see if they have any policies regarding emotional support animals on campus. For the most part, schools will not allow ESAs in a classroom or other school setting.
Can my emotional support animal board airplanes?
Until January 2021, ESAs were allowed to board the cabin of flights free of charge. That all changed due to regulatory changes by the U.S. Department of Transportation. As a result of these legal developments, U.S. airlines no longer recognize emotional support animals.
To fly with your ESA in the cabin, your ESA will have to meet the airline's restrictions for pets. That usually means your ESA must be able to fit in a small carrier bag. You will also have to pay pet fees (which can cost up to $125 each way).
Psychiatric service dogs, on the other hand, can still fly in the cabin free of charge. The passenger will need to submit the DOT's Service Animal Air Transportation Form, which requires self-certification regarding the dog's service animal status. The passenger must represent that they have a fully trained service dog that assists them with a psychiatric disability. 
If you're interested in beginning the process towards owning a psychiatric service dog, the licensed healthcare professionals that work with ESA Doctors can help. A licensed professional can determine whether you qualify for a PSD letter. A PSD letter is a signed document from a healthcare professional that states whether you have a qualifying disability for purposes of owning a psychiatric service dog under the Americans with Disabilities Act and Air Carrier Access Act.
Get your Psychiatric Service Dog Letter Now
Can my emotional support animal stay in a hotel or AirBNB?
Hotels are not required to allow emotional support animals as they are not covered by ESA Fair Housing rules. Airbnb stays are also not required to allow emotional support animals, but you can always contact them and ask politely. Some hosts allow you to bring an emotional support animal, but you should always check before booking a reservation.
While hotels do not have to accommodate ESAs, they are required to allow psychiatric service dogs.
Can my emotional support animal come inside a restaurant or store?
Contrary to popular belief, emotional support animals are NOT allowed in stores, restaurants, or other businesses. Emotional support animals do not have the same level of public access as psychiatric service dogs, and each business has the right to accept or deny an ESA. Some businesses allow ESAs and other animals as a courtesy, but it is within their right to refuse to accommodate you.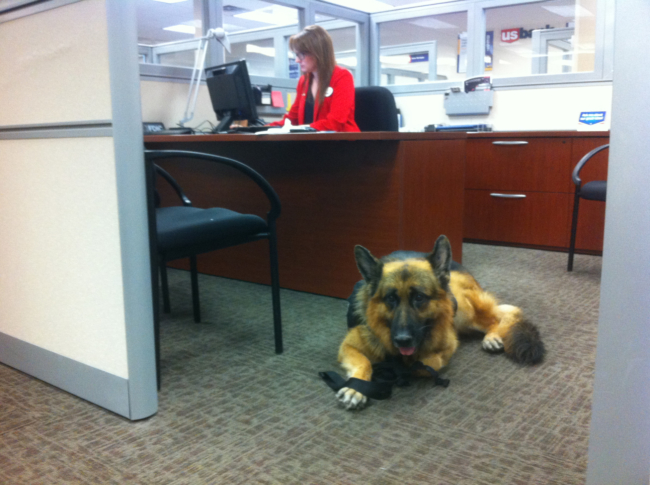 Can my emotional support animal come to work?
There is no federal law that mandates employers to accommodate emotional support animals. Generally, employers do not allow emotional support animals to accompany their owners in the workplace. Your employer, however, may have a different policy that accepts ESAs if certain conditions are met. It may be worthwhile to discuss what options you have with your manager or supervisor. Fair warning, most employers do not have a policy that allows for ESAs during working hours.
ESAs Are Welcome
You should feel confident bringing your emotional support animal into your home if you have submitted an ESA letter to your landlord. The law protects ESA owners from discrimination and recognizes that emotional support animals play a crucial role in the battle against mental health disabilities.
If you need an ESA letter or a PSD letter, there is no better route than ESA Doctors. ESA Doctors will put you in touch with a licensed professional that can assess your mental and emotional health and issue an ESA or PSD letter if you qualify. The entire process is done without office visits and confidentially.
Start the ESA questionnaire below to see if you qualify for an ESA

Get the Love and Support You Deserve!