The use of Emotional Support Animals (ESA) has been helping those individuals that suffer from emotional or mental disabilities by giving them a new lease on life. In this post, we will cover where you can take your emotional support animals and some other facts you will want to know.
What is an Emotional Support Animal?
An ESA is defined as any animal that brings comfort and/or emotional stability to a person who suffers from a diagnosed mental or emotional disability. This animal can be any species including canine, feline, rodent, bird, snake and other reptiles.
In order to apply for an ESA, you must be evaluated by a licensed mental health professional and be recommended an emotional support animal to help with your everyday life. You can use an existing pet or adopt/purchase an animal specifically for the purpose of bringing you comfort and emotional stability.

ESA's and the Federal Laws
There are laws in place covering the American's with Disabilities Act (ADA) and their emotional support animals. However, again, these animals are not the same as service dogs and therefore to not garner the same rights. For example, the owner of a business does not have to allow an ESA in with an employee. Hotels, camps, and motels also view ESA's as pets, so you will have to follow the rules set forth by these businesses concerning animals. Furthermore, restaurants, malls, and movie theaters are also considered businesses, so an ESA will also not be allowed into these establishments.
Emotional Support Animals Allowed
ESA's & the Fair Housing Act
The laws do protect people suffering from emotional mental disabilities and their ESA's when it comes to no-pets housing. ESA's are allowed into apartments and housing when the animal provides assistance related to the person's disability. Under the Fair Housing Act, the owner of the building/home cannot charge you any extra for the ESA, but the animal will still be expected to behave in an orderly fashion.
ESA's in College Dorms
College dorms and campus housing must allow for emotional support animals to live with their owners. There have been many colleges that have not allowed emotional support animals and they have been penalized financially for not following the Fair Housing Act. The HUD (Housing and Urban Development) enforces the Fair Housing Act laws by requiring colleges to allow emotional support animals.
Emotional Support Animals and Airlines
Under the Air Carrier Access Act (ACAA), people can travel with ESA's without any extra charge or require the animal to be placed in the cargo hold. However, you must have the proper documentation from the mental health professional you are currently under the care of. Without this recently written letter or form, your ESA can be denied access into the cabin of the airplane.
Emotional Support Animals NOT Allowed
Unlike certified service dogs, ESA's do not have the same rights and privileges when it comes to public access.
Emotional Support Animals in Hotels and AirBNB
Hotels are not required to allow emotional support animals since hotel stays are considered temporary housing. Airbnb's are also not required to allow emotional support animals, but you can always contact them and ask them politely. Demonstrating that your ESA is trained and well behaved may allow you to stay in hotels and AirBNB's. You can contact these establishments in advance and let them know that you have a well-behaved emotional support animal.
Emotional Support Animals in Restaurants and Stores
Contrary to popular belief, emotional support animals are NOT allowed in restaurants and other businesses. Unlike service dogs, emotional support animals do not have the same level of access and each business has the right to accept or deny ESA's. If you want to take your ESA into a store, we suggest letting the store manager or employee know that your pet is an emotional support animal and is well-behaved.
ESA's in the Workplace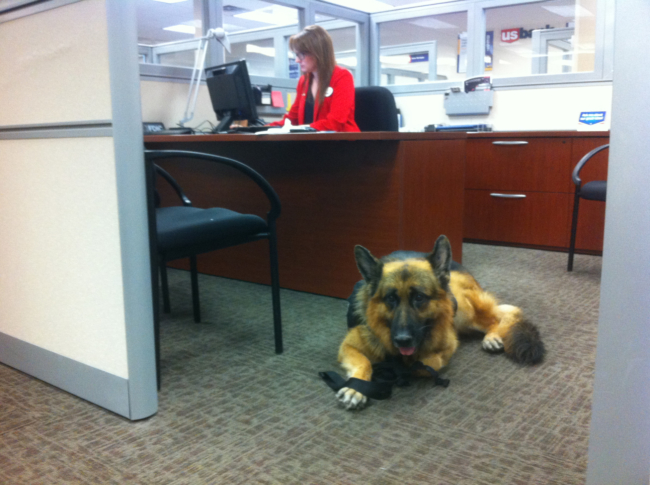 Although emotional support animals can be beneficial to individuals suffering from mental disabilities, employers are not required to allow ESA's into the workplace. Since emotional support animals differ from service animals, ESA's do not have the same level of access when it comes to the workplace. You may petition your office manager to allow your emotional support animal into the workplace, but make sure that your ESA is properly potty trained and under your control at all times.
ESA's Are Welcome
When you require an ESA you do have special rights under the Federal laws. However, always be sure to check in your specific state/country as to what rights you have as it can vary from place-to-place.
Having an emotional support animal can make all the difference to a person suffering from an emotional or mental obstacle, let's as a society respect these individuals and give them the rights they deserve to live a better life.
Start the ESA questionnaire below to see if you qualify for an ESA

100% Money back guarantee.